Program guide
19:50
MMA Series - Names and Records
20:00
MMA Series Names. M.Kolosov
21:30
MМА Series Names. V.Kolesnik
00:00
M-1 Names. Sh.Rakhmonov
01:00
M-1 Names. D.Prikaza
04:00
MMA Series Names. I.Freymanov, A.Moiseev, O.Manzhuev, N.Karaev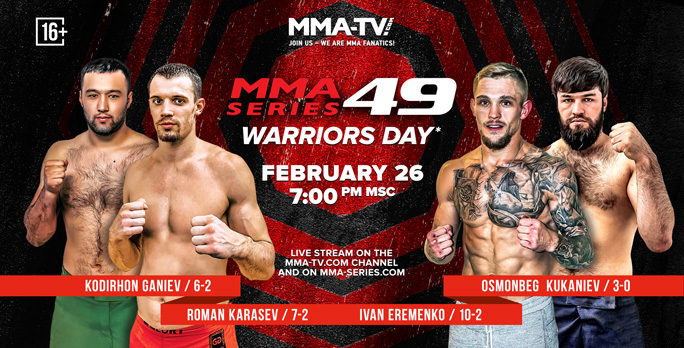 MMA SERIES WILL HOLD THE THIRD BIG TOURNAMENT IN THIS YEAR ON FEBRUARY 26!
Live stream of the MMA Series-49 will be held on MMA-TV.COM –
a new name of the M-1 Global TV – on February 26 at 7 PM Moscow time.
The 49th MMA Series event will be held on February 26. You will see more than 10 fights with the strongest fighters from Russia, Kyrgyzstan, Tajikistan, Azerbaijan, Uzbekistan, Iran & Moldova. Most of them are already well known by MMA Series fans.
The headliner of the tournament is Roman Karasev, one of the most successful MMA Series fighters. He has a 5-0 Series record and he is the bronze MMA Series Winner titleholder after his win versus Alexander Lihalatov past December. His MMA record is 9-2. The upcoming fight will be the title defense. He can get a chance to fight for the silver MMA Series Winner belt in case of a win.
Osmonbeg Kukaniev from Tajikistan against Kodirhon Ganiev from Uzbekistan is the co-main fight of MMA Series-49. Kukaniev started his career in MMA Series past year and it was an unbelievable MMA debut. Now he is the "Debut of the year" nominee of MMA-TV.COM Awards 2021. He has a 3-0 record. The upcoming duel will be the debut in MMA Series for Ganiev. He has a 5-2 record and 4 times he KO'd his opponents.
MMA veteran Shamil Abdulkhalikov (14-5) will fight for the third time in MMA Series. Experienced fighter from Rostov has a 2-0 Series record and he will do anything for the 3rd win versus Alireza Shariati from Iran. Alireza has a 6-5 record. He fought in Afghanistan, Iran and Georgia. An upcoming fight will be the debut in the Series.
Special attention for another MMA Series star Dimitriy Andryushko. "Mastiff" has a 4-0 Series record. All these victories happened in 2021. His new opponent is Mikhai Bachu from Moldova. He doesn't fight in MMA Series and his record is 4-4. It will be a quarter-final of heavyweight 105 kg Grand-Prix.
Ivan Eremenko aka Dancer will debut in MMA Series. Roman Karasev's team partner has a 10-2 record with 10 victories in a row. His opponent is Abdrasul Nursultan Uulu (6-6) from Kyrgyzstan with a 1-1 Series record. Islam Kamaldinov from Uzbekistan will fight for the 3rd time in MMA Series. Elvin has a 1-1 record in the Series. He will face MMA Series debutant Elvin Najafov from Azerbaijan. He has a 7-3 record. This fight is the quarter-final of welterweight 77 kg Grand-Prix. Tural Farzaliyev (3-1) from Azerbaijan versus Sharaputdin Abdusalamov (2-0) from Russia is also quarter-final of welterweight 77 kg Grand-Prix. Both fighters will be debut in the Series.
Denis Arkhireev (5-2) from the Storm Alexander Shlemenko fight club will fight for the 2nd time in MMA Series. He didn't win against Oleg Popov in the MMA Series-7 but MMA fans know about Russian heavyweight potential. His opponent is Puriya Nemati (3-1) from Iran. Fight versus Denis will be debut in the Series and this is the quarter-final of heavyweight 105 kg Grand-Prix.
Special attention to Kamil Gereykhanov's MMA Series debut. He has a 3-0 record. He is the second winner of the "Become MMA Series fighter" Instagram contest in 2021. The first winner was Alexander Epishov. Kamil will face Alexander Zharkin (3-3) from Russia.
MMA Series will hold its 50th jubilee event in Big Moscow Circus (Vernadsky prospect) on April 15. Mad Max Novoselov is in the main fight. Also you will see Alexander Ponomarev, Sergey Bobryshev and other fighters from semi-finals Grand-prix fights. Don't miss the live stream on MMA-TV.COM channel and mma-series.com.
Get a tickets & live stream: mma-series.com.