Program guide
00:00
MMA Series Names. B.Yunusov (Interview)
00:45
MMA Series Names. B.Yunusov
03:50
Names and records. MMA Series-67.
04:00
M-1 Names. A.Semenov
05:10
M-1 Names. P.Gordeev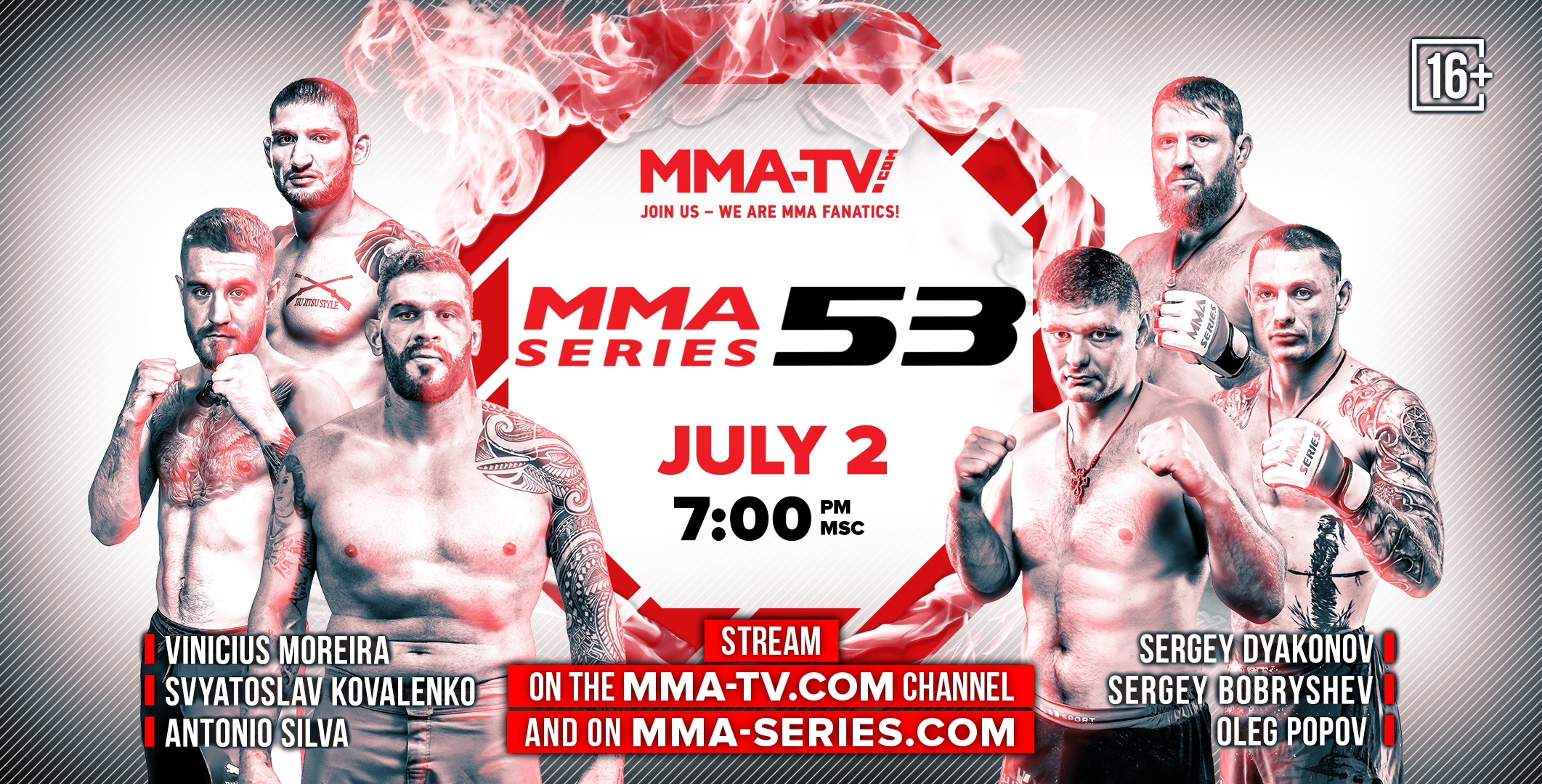 Oleg Popov (Fedor Team) vs legendary Antonio Bigfoot Silva in main fight, scandalous Kovalenko - Bobryshev clash, Yakov Ekimov vs Myktybek Oskonbaev in golden MMA Series Winner title fight, Sergey Dyakonov vs Vinicius Moreira - this and something more you will watch in MMA Series-53 stream on MMA-TV.COM (July 2, 7 Pm Moscow time)!

MMA Series-53 card

Prelims
1. Abbosjon Nematov (Uzbekizstan) - Adilet Ashymov (Kyrgyzstan)
2. Bekhruz Fazliddinov (Uzbekistan) - Kirill Mironenko (Russia)
3. Fuad Musayev (Azerbaijan) - Magomed Kadiev (Russia)
Main card
4. Ryskeldi Sadyk Uulu (Kyrgyzstan) - Aleksey Vooevodin (Russia)
5. Shakir Aybek Uulu (Kyrgyzstan) - Andrey Lebedev (Russia)
6. Muhriddin Javliev (Uzbekistan) - Viktor Kluyev (Russia)
7. Omar Rzayev (Russia) - Mukhammad Kholikov (Uzbekistan)
8. Said Khatiev (Russia) - Alexander Durymanov (Russia)
9. Vinicius Moreira (Brazil) - Sergey Dyakonov (Russia)
Super fights
10. Myktybek Oskonbaev (Kyrgyzstan) - Yakov Ekimov (Russia)
11. Svyatoslav Kovalenko (Russia) - Sergey Bobryshev (Russia)
12. Antonio Silva (Brazil) - Oleg Popov (Russia)