Program guide
12:00
MMA Series Names. A.Santos
12:30
The cage of Victoria Itsekhovskaya. MMAC 71.
12:45
MMA Series-71. R.Abrahamyan, G.Melkonyan, D.Gonsalves, N.Melikyan
15:50
The territory of MMA-TV.com. No.19
16:00
MMA Series Names. R.Krainov
16:20
Names and records. MMA Series-72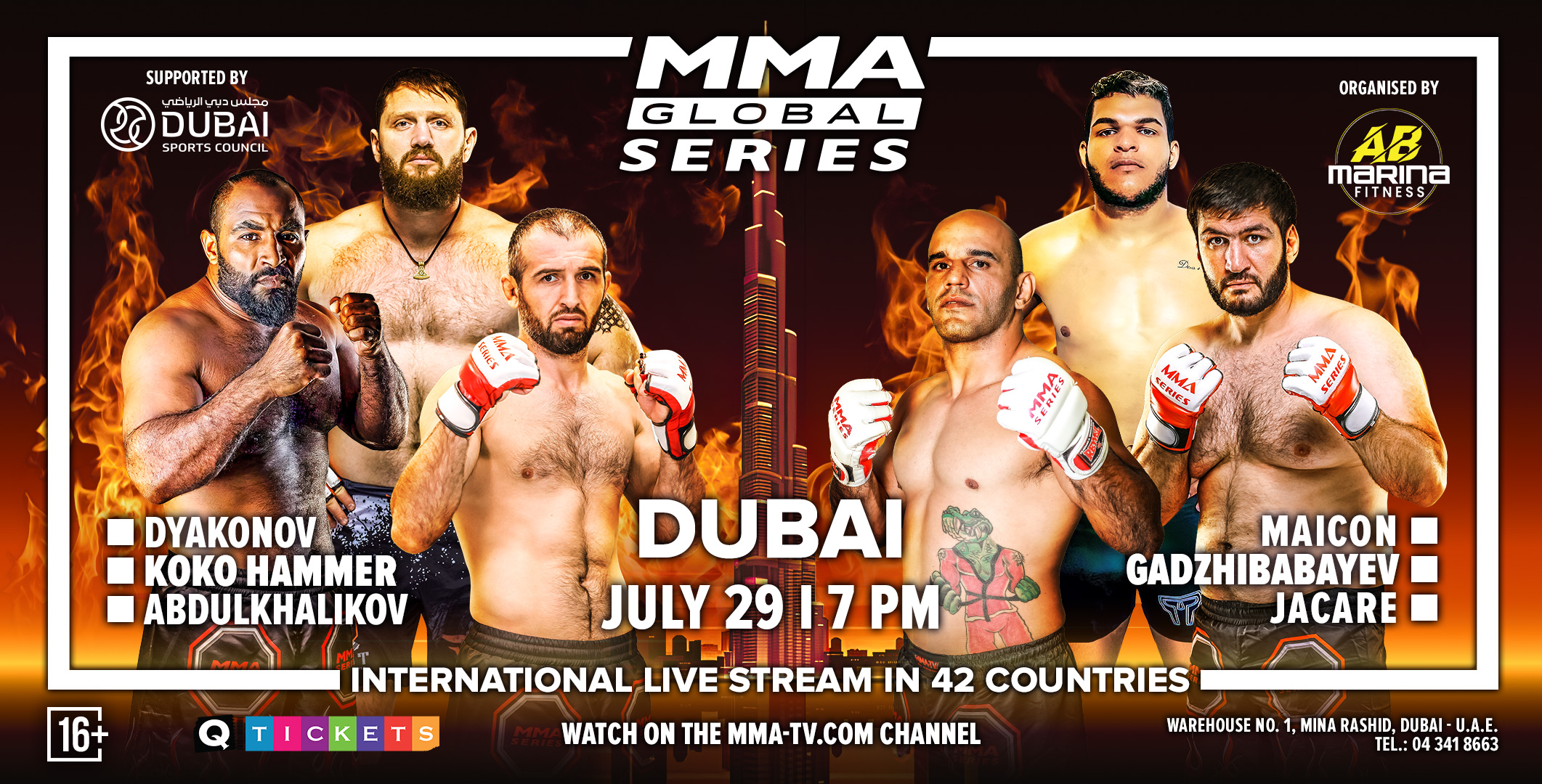 The MMA Global Series tournament will take place in Dubai on July 29 and we want to tell you about the event! MMA Global Series will be organized by the AB Marina Fitness in cooperation with MMA-TV.com. MMA Global Series is an international organization that organizes MMA events around the world. MMA Series is part of it.

The main fight of the MMA Global Series will be the fight between Sergey Dyakonov and Maicon Douglas. The Russian heavyweight has eight wins in the league, and he also holds the gold MMA Series Winner title. Dyakonov is regarded as the league's strongest fighter at his weight and occupies the first line of the tournament rating table. Sergey will not only defend his gold belt, but also become the first contender for the platinum title in our history!

His rival Maicon Douglas aka Mamute represents Brazil. He will debut in MMA Series and record of the Latin American consists of 14 fights. He has a 9-5 record (6 knockouts and 1 submission).

Experienced Shamil Abdulkhalikov and Cassio Jacare will clash in the co-main event. Because he has six fights in the MMA Series, the Dagestan middleweight is well known to the audience (5-1 record). Abdulkhalikov is now competing for the bronze MMA Series Winner title.

His opponent Cassio Jacare represents Brazil and FH2TEAM. He has one fight in the league versus a non-native weight category for him with Valter Walker. Jacare has a lot of experience based on his statistics (35 fights), in which Cassio won 20 times, lost 14 times, and drew once.

One of the most important and interesting events of the upcoming MMA Global Series tournament will be the return of Zaur Gadzhibabayev. The heavyweight from Azerbaijan will fight against the Egyptian Koko Hammer. Gadzhibabayev has 6 fights in the league: four wins and two losses. The Azerbaijan heavyweight has long demonstrated to the public that he can defeat any opponent, and now Zaur is determined to end his losing streak. Koko Hammer has only one fight here: Hammer was defeated by Thiago Cardoso. (MMA Series-64). In total, Koko has 11 fights in his professional career.

The young talent from the Krasnodar Kuznya fight club Vasiliy Rudenko returns to business! He is only 24, but he already has eight professional victories without losses, seven of which were obtained in the MMA Series events. His opponent is Mahmoud Abdel Razek. He represents Egypt and the Fight Club team. His pro record is 7-5.

The matchmaker Fedor Ryzhov included some extremely interesting athletes. Maksujon Kadirov, Lucas Nascimento, and Muboriz Umarov should be mentioned among them. Kadirov represents Tajikistan and the Camelot sports academy. He has six fights in the MMA Series, and at the same time, Maksujon has been with us for more than three years: Kadirov made his debut in the league at the eighth tournament. His opponent will be the undefeated Fahad Khan from India, who represents the Relentless team. For Nascimento, representing the Gor MMA team and Brazil, the upcoming fight will be the second here. In the first, he was defeated by featherweight champion Said Khatiev. Muboriz Umarov, who will be fighting for the second time in the league, will be Lucas' opponent. He represents the Camelot sports academy and Tajikistan. He has 10 wins with three losses in his career and one successful performance in the MMA Series.

MMA Global Series fight card
1 Fahad Khan (India) – Maksujon Kadirov (Tajikistan)
2 Mourad Chably (Morocco) – Magomedzagid Nabiev (Russia)
3 Arymarcel Santos (Brazil) – Abbas Khan (Pakistan)
4 Koko Hammer (Egypt) – Zaur Gadzhibabayev (Azerbaijan)
5 Lucas Nascimento (Brazil) – Muboriz Umarov (Tajikistan)
6 Mahmoud Abdel Razek (Egypt) – Vasiliy Rudenko (Russia)
7 Cassio Jacare (Brazil) – Shamil Abdulkhalikov (Russia)
8 Maicon Douglas (Brazil) – Sergey Dyakonov (Russia). Gold MMA Series Winner title fight.

Watch the live stream on the MMA-TV.com channel and on mma-series.com on July 29 at 7 PM Moscow time.

You can watch MMA Series events here:

• on MMA-TV.com channel (in packages of your cable, satellite and OTT operators);
• on mma-series.com;
• on MMA Series youtube
• on Okko streaming platform
MMA-TV.com is available on major satellite, cable, and OTT networks in Russia and 40 countries.