STORM IN SIBERIA: MMA SERIES WILL HOLD THE 25th TOURNAMENT TOGETHER WITH THE LEGENDARY ALEXANDER SHLEMENKO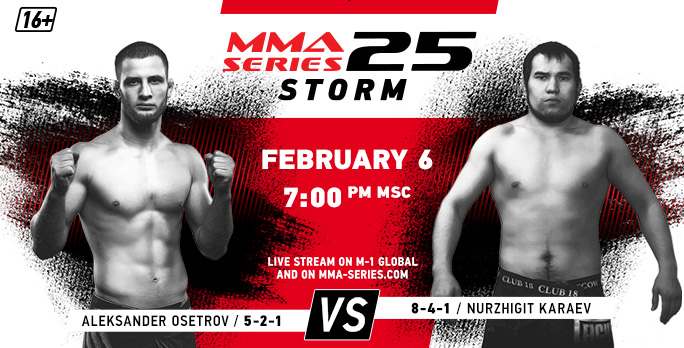 Live stream of the MMA Series – 25: Storm will be held on M-1 Global on February 6 at 7:00 PM Moscow time.
MMA Series – 25: Storm will be held on February 6 in Omsk. The fight night scheduled for the first February Saturday will be organized together with the Storm MMA school author Alexander Shlemenko and the STORM Shlemenko Fight Team. Several Shlemenko's fighters will be fighting in the MMA Series – 25: Storm.
The main event of the MMA Series – 25: Storm will be a fight between Alexander Osetrov (5-2) and Nurzhigit Karaev (8-4-1). Osetrov is a veteran of M-1 Global and RCC and the upcoming fight will be the first in MMA Series for him and already the main fight. 24 years old fighter from Omsk didn't fight for a year so we can talk about career reload.
Osetrov's opponent is Nurzhigit Karaev from Kyrgyzstan. He is already known by M-1 Global viewers: in the first case he defeated Said Gadzhiev in the MMA Series – 10, in the second case he lost to another Shlemenko's fighter Miri Sadygov in the M-1 Selection Online event. Karaev has 2 wins in a row right now and he was fighting 5 times in 2020: 3 wins and only 1 loss.
Another Alexander Shlemenko's fighter Alexander Podmarev (8-3-1) will face Magomed Aliev (2-0) in a co-main event. Podmarev has 1 fight in MMA Series. He was fighting with Elmar Gasanov in the MMA Series – 21. Draw as a result. Magomed Aliev has no losses. Magomed was fighting for 2 times and the first fight was in 2015. But after 5 years in October 2020 Aliev returned and won by KO. Now Magomed is ready to return after a couple of months and continue to reload his career.
Miri Sadygov will fight in the MMA Series – 25: Storm as well. He has 5 wins, 2 of them by KO in 2020.
One of the most exciting fights will be the one with Alexey Shurkevich. He has 5 wins by KO and 2 wins by submissions.
We should note the female fight in the MMA Series – 25: Storm. MMA Series fans will watch Yulia Ostroverkhova (3-1) for the second time in 2 months. She was fighting versus Anastasiya Feofanova in the MMA Series – 22 and unfortunately lost this event. Yuliya will face Daria Bankina who will fight the second time in MMA tournaments.
Each closed-door event will take place under the most stringent conditions as determined by trained medical doctors. All of the fighters and participants are being tested and monitored for COVID-19 by trained medical professionals. Everyone supporting the fight will be wearing masks for their safety.
Considering the time difference between Moscow and Omsk the stream will be carried out with a time delay in full without any changes. This delay is made so that viewers in all time zones, including on the territory of the North American continent, watch the stream at the usual time.
Live MMA Series streams are available to 80 million households in more than 30 countries:
on cable, satellite and OTT networks carrying M-1 Global TV channel

on MMA Series official YouTube channel (behind pay-wall)
The tournament will stream internationally (not in Russia and the CIS) on the live and interactive platform ClashTV. The ClashTV app allows you to do more than just watch – you can vote for which fighter you think should win, you can chat with your friends online while watching, and generate social capital.
Download the ClashTV app in the Apple Store and register:
https://apps.apple.com/tt/app/clashtv/id1468675126
Details on www.clsh.tv