Program guide
19:50
MMA Series - Names and Records
20:00
MMA Series Names. M.Kolosov
21:30
MМА Series Names. V.Kolesnik
00:00
M-1 Names. Sh.Rakhmonov
01:00
M-1 Names. D.Prikaza
04:00
MMA Series Names. I.Freymanov, A.Moiseev, O.Manzhuev, N.Karaev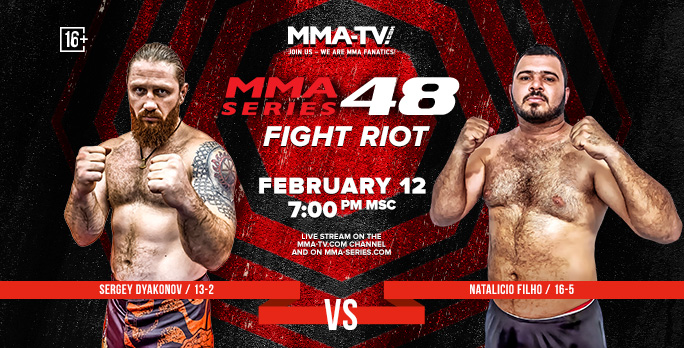 MMA SERIES GOES TO VORONEZH: TITLE FIGHT HEADS 48th EVENT!
MMA SERIES-48: Fight Riot live stream will be held on MMA-TV.com – a new name of the M-1 Global TV channel – on February 12 at 7 PM Moscow time.
MMA Series-48: Fight Riot will be held on February 12 in Voronezh. MMA Series Winner title will be played in the main fight! Also it will be eleven fights with athletes from six different countries – Russia, Brazil, Uzbekistan, Belarus, Azerbaijan and Moldova.
Sergey Dyakonov will face Natalicio Filho in the main fight. Russian heavyweight and "Molot" (Murom) coach has 3 fights in MMA Series and has no defeats. This is the main reason to give him a fight for the bronze MMA Series Winner title. His opponent Filho will debut in the Series. He didn't lose in 2 last fights and has a 16-5 record.
Russian heavyweights Artem Shishkin and Musa Abdurakhmanov will face each other in the co-main fight. They both will debut in MMA Series. Shishkin didn't fight since 2018. His record is 5-2 and now he is ready for comeback in his homegrown city. Abdurakhmanov has an ideal 2-0 record, but he also didn't fight for a couple years. His last fight was dated in 2020. Both fighters will try to reanimate MMA career.
MMA Series fans will watch well known fighters in the upcoming tournament. Maxim Viktorov, Dmitry Zasinets, Nikita Severov and more – they have at least one fight in the Series. Viktorov has 2 Series wins and his new opponent is Alexey Balyberdin with a 6-3 record. Alexey will debut in the Series. This fight will be the grand-prix in 77 kg.
Nikita Severov from Russia will face Dmitry Zasinets from Belarus. They both have one Series fight – Zasinets won against Murad Saidov in April 2021 and Severov won against Vladlen Sidorenko in October 2021. This clash has a grand-priz status in 77 kg as well. We also can't frustrate female MMA fans. Anastasiya Frolova from "Universal Fighters" (Moscow) will face Marina Nika from "Peresvet" (Rostov). Nika from Moldova will have the second Series fight: she won at the MMA Series-39 and got into the "Debut of the year" & "Female fighter of the year" of MMA-TV.COM Awards 2021 nominees. Frolova also will fight for the second time in the Series. Anastasiya didn't win in 2020 and now she has a strong motivation.
Ruslan Medzhidov from Azerbaijan will face Ilyas Khanov from Russia. It will be grand-prix fight in 105 kg. Medzhidov represents "MMA Profi" (Nizhniy Novgorod). Upcoming clash will be the third in MMA Series. He didn't win in previous two events, but his fight against Alexander Podmarev at the MMA Series-33: Barvikha Luxury was memorable for spectators. Khanov represents "Khortich" (Rostov). Universal fighter didn't win at the MMA Series-26: Fight Riot (Voronezh) 1 year ago in the amateur fight. So it means the both athletes will be motivated a lot for the first Series win.
Rakhman Abasov (Russia) and Ilkin Shekereliev (Azerbaijan) will also face each other in grand-prix fight in 105 kg. Rakhman will debut in the Series. Shekereliev will fight for the second time in the Series events.
Get a live stream: mma-series.com.
Spectators will be allowed to enter the stands in accordance with the current restrictions. The event will take place under the most stringent conditions as determined by trained medical doctors. All of the fighters and participants are being tested and monitored for COVID-19 by trained medical professionals. Everyone supporting the fight will be wearing masks for their safety.
You can watch the MMA series tournaments:
• on MMA-TV.com channel in packages of your cable, satellite and OTT operators
• on www.mma-series.com
• on the MMA Series YouTube (premium subscription)
The tournament will stream internationally (not in Russia and the CIS) on the live and interactive platform ClashTV. The ClashTV app allows you to do more than just watch – you can vote for which fighter you think should win, you can chat with your friends online while watching, and generate social capital.
Download the ClashTV app in the Apple Store and register:
https://apps.apple.com/tt/app/clashtv/id1468675126
Details on www.clsh.tv