Program guide
14:00
MMA Series - 55: Grand arena. S.Bobryshev, M.Oskonbaev, S.Dyakonov, Z.Gadzhibabaev
19:00
MMA Series Presents: The Stars of World MMA
21:00
MMA Series Presents: The Stars of World MMA. D.Riggs, B.Medvedev, O.Popov.
22:50
MMA Series Names. G.Mishin
23:35
MMA Series Names. B.Guskov
00:00
MMA Series - 57. Moscow calling. W.Junior, I.Varvarskij, R. Medzhidov, S.Hatiev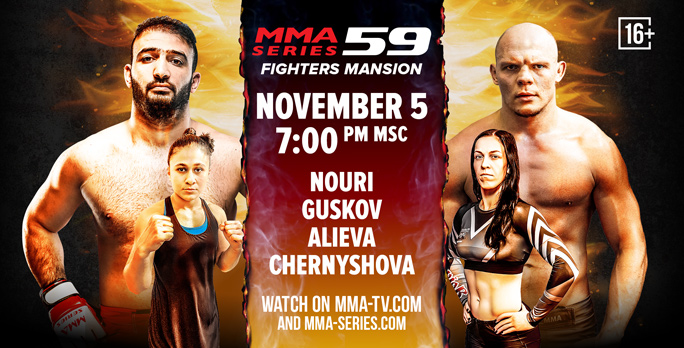 MMA Series-59: Fighters Mansion - Watch on MMA-TV.com & mma-series.com - November 5 (7 PM Moscow time)!

Long awaited MMA Series debut from Bogdan Guskov (Uzbekistan) in main fight versus Abdelwahab Mohamed (Egypt);
Amin Nouri (Iran) will face Kodirhon Ganiev (Uzbekistan) in co-main fight;
Female fight: Zemfira Alieva (Russia) versus Irina Chernyshova (Russia).

Stay tuned, more info coming soon!