Gorilla MMA Series to win first title in its history: the belt is claimed by the best fighter of 2020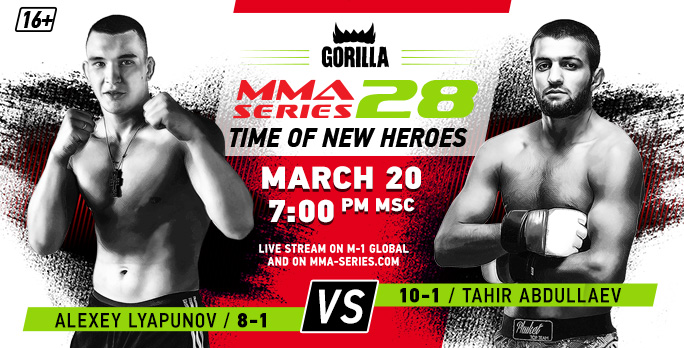 Live stream of Gorilla MMA Series – 28: Time of new heroes will be held on M-1 Global on March 20, at 7 PM Moscow time.
Gorilla MMA Series – 28: Time of new heroes will be held on March 20 in St. Petersburg and there will be 10 fights. In the main fight we will see MMA Series Awards 2020 winner ("Best fighter", "Best fight") Alexey Lyapunov and he can be the first winner of the Series title if he wins. Also fans will watch performances from the best Gorilla MMA Series athletes according to last season: Sergey Maslov, Dmitry Tebekin, Maksudzhon Kadirov and Vladimir Yurusov.
The main event fighter of the upcoming event in St. Petersburg Alexey Lyapunov is the three-time winner in Gorilla MMA Series and also the winner of MMA Series Awards 2020 ("Best fighter", "Best fight"). The welterweight from the Sech Pro team can be the first time MMA Series title winner if he can beat Tahir Abdullaev from Azerbaijan. Abdullaev has 10 wins, 9 of them were early. Now Tahir has 3 wins in a row and the last win was in the 10 Series event.
Dmitry Tebekin will face Elmar Gasanov in the co-main event of Gorilla MMA Series 28: Time of new heroes. Tebekin came to MMA in 2013 and has 18 fights, 12 wins and 6 losses. The last time he came to the octagon in RCC against the Russian famous middleweight Mikhail Ragozin. The last win for Dmitry was in the 9th MMA Series event against Evgeny Mikhalev. His new opponent Elmar Gasanov also fought in Gorilla MMA Series: he fought against Alexander Podmarev in the 21st tournament.
One of the most hyped Gorilla MMA Series fighter Sergey Maslov is also ready for a comeback. For the Sech Pro fighter an upcoming fight will be the first after the 21st MMA Series event. That time Maslov could have been the first Gorilla MMA Series title winner, but he lost to Hayk Kazaryan in a tough fight. On March 20 Maslov will face Belek Aliev from Kyrgyzstan. He has 10 wins, 9 of them by KO. The upcoming fight with Maslov will be the first for Aliev in Gorilla MMA SERIES.
One more fighter who can win for the fourth time in Gorilla MMA Series can be Maksudzhon Kadirov from Tajikistan, who finished his 3 opponents in 4 months. In the 28th MMA Series event he will face Azizbek Keldibek Uulu from Kyrgyzstan, who will try to win for the second time in Gorilla MMA Series this year: he beat Alexander Lunev in January.
Each closed-door event will take place under the most stringent conditions as determined by trained medical doctors. All of the fighters and participants are being tested and monitored for COVID-19 by trained medical professionals. Everyone supporting the fight will be wearing masks for their safety.
You can watch the Gorilla MMA series tournaments:
• on M-1 Global TV channel in packages of your cable, satellite and OTT operators
• on www.mma-series.com
• on the Gorilla MMA Series YouTube (premium subscription)
The tournament will stream internationally (not in Russia and the CIS) on the live and interactive platform ClashTV. The ClashTV app allows you to do more than just watch – you can vote for which fighter you think should win, you can chat with your friends online while watching, and generate social capital.
Download the ClashTV app in the Apple Store and register:
https://apps.apple.com/tt/app/clashtv/id1468675126
Details on www.clsh.tv