GORILLA MMA SERIES IS BACK TO THE HEART OF BASHKORTOSTAN ON JUNE 12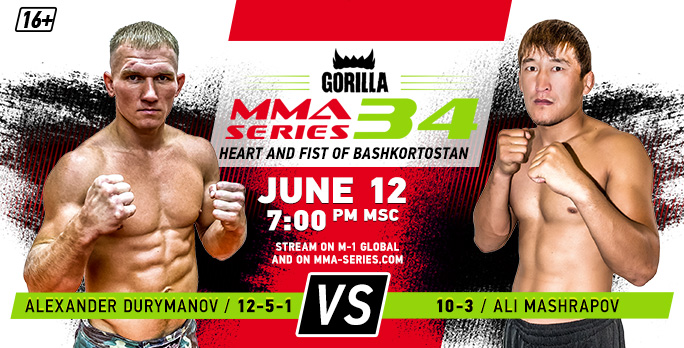 GORILLA MMA SERIES IS BACK TO THE HEART OF BASHKORTOSTAN ON JUNE 12!
Stream of Gorilla MMA Series – 34: Heart & Fist of Bashkortostan will be held on MMA-TV.com on June 12 at 7 PM Moscow time.
Another Gorilla MMA Series tournament will be held in the capital of Bashkortostan on June 12. This is the second Series tournament in Ufa. The main event of Gorilla MMA Series – 34: Heart & Fist of Bashkortostan will be the title fight for Alexander Durymanov and he will face Ali Mashrapov.
It will be the 4th Series fight for Durymanov and in the previous three battles he always won. Alexander's record is 12 wins, 5 losses and 1 draw. First 2 fights in Gorilla MMA Series he won with only 2 months break, and he beat Almaznek Mamasabirov and Bakhtiyor Yuldashev. And "Wolfhound" got a chance to fight for the title because of her last KO vs Khalil Khalilzade.
But Durymanov will get the trophy only if he beat Ali Mashrapov from Kyrgyzstan, who has 10-3 record. Mashrapov is known for the ability to win by submissions and this is another intrigue because "Wolfhound" also is great at this component.
In the co-main fight we will see heavyweights clash: Sergey Dyakonov will face Evgeny Mikhalev. The Fighter from Murom is well known in Gorilla MMA Series, because he beat Mikhail Sysoev by decision year ago. Now heavyweight from the team of Sergey Bobryshev Gorilla MMA Series star will try to improve his statistics (11-2) at Ufa.
Dyakonov's rival Evgeny Mikhalev also has been fought in Gorilla MMA Series: in our 9th event he fought against Dmitry Tebekin. That evening was not successful for Mikhalev and he didn't fight after this tournament. The upcoming fight will be a very important chance for victory, also because his opponent is one of the bright heavyweights at our events.
In the 3rd super fight we will see heavyweights again. The Ex-fighter of the Nashe Delo youtube project Dimitry Andryushko aka Grenade Launcher will fight in Gorilla MMA Series for the second time and his rival will be Khasan Isaev. Andryushko's debut was in the Gorilla MMA Series – 30 where he KO'd Denis Ezuta and this was his second win in MMA career. His opponent Isaev has 3-0 record and he will debut in the Series.
Also note, fighters from Bashkir MMA school – Unir Bikbaev and Gaysa Kutushev will try their best in their native city.
Spectators will be allowed to enter the stands in accordance with the current restrictions. The event will take place under the most stringent conditions as determined by trained medical doctors. All of the fighters and participants are being tested and monitored for COVID-19 by trained medical professionals. Everyone supporting the fight will be wearing masks for their safety.
You can watch the Gorilla MMA series tournaments:
• on MMA-TV.com channel in packages of your cable, satellite and OTT operators
• on www.mma-series.com
• on the Gorilla MMA Series YouTube (premium subscription)
The tournament will stream internationally (not in Russia and the CIS) on the live and interactive platform ClashTV. The ClashTV app allows you to do more than just watch – you can vote for which fighter you think should win, you can chat with your friends online while watching, and generate social capital.
Download the ClashTV app in the Apple Store and register:
https://apps.apple.com/tt/app/clashtv/id1468675126
Details on www.clsh.tv