GORILLA MMA SERIES ENDS THE JUNE WITH A STAR SERIES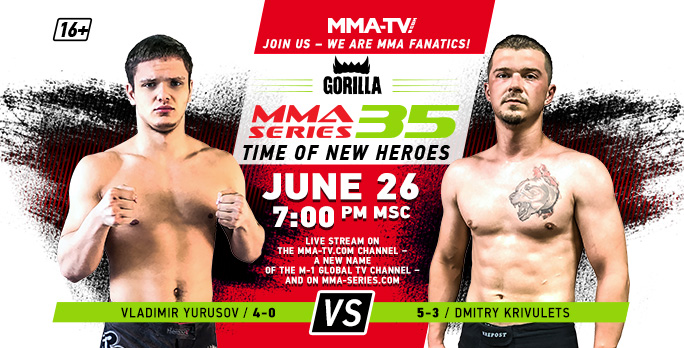 Live stream of the Gorilla MMA Series – 35: Time of new heroes will be held on MMA-TV.com on June 26 at 7 PM Moscow time.

Gorilla MMA Series – 35 will be held on June 26 by the name "Time of new heroes". At this tournament the battles will be with the well-known fighters for Series fans. And here we pay special attention to a couple of prospects, who will be lighted in the fight card.
First of all, this is Vladimir Yurusov, who earned 4 wins in a row in the Gorilla MMA Series. His last fight was a month ago in the Gorilla MMA Series – 31 on May 1. A very interesting fact is there was the win by submission, as previous 3. His opponent is Dmitriy Krivulets. He has 6 wins and 3 loses.
Secondly, fans will watch the most active Gorilla MMA Series fighter Artem Semenov. He has 8 fights in the Series, and the last one was at our 31st tournament. Then Semenov confidently won Hakim Zuboitov. And now he will face Isak Guliyev. Fighter from Azerbaijan has a 4-1 record.
Thirdly, one of the Gorilla MMA Series fighters Yan Shipilov is ready to battle in the co-main event after his win at our 34th tournament a couple of weeks ago. His opponent is Vitor Resende from Brazil. He has a 3-0 record.
And of course, we can't ignore Mark Vologdin's comeback. He is the most ambitious Gorilla MMA Series fighter. The young prospect from Karelia didn't win on May 1 and interrupted his amazing 5-win streak in a row. Vologdin will try to return to the win streak and to get a chance for victory in the Gorilla MMA Series title fight. His opponent is Umud Agamirov from Azerbaijan. He has 3 early wins and no losses.
Each closed-door event will take place under the most stringent conditions as determined by trained medical doctors. All of the fighters and participants are being tested and monitored for COVID-19 by trained medical professionals. Everyone supporting the fight will be wearing masks for their safety.
You can watch the Gorilla MMA series tournaments:
• on MMA-TV.com channel in packages of your cable, satellite and OTT operators
• on www.mma-series.com
• on the Gorilla MMA Series YouTube (premium subscription)
The tournament will stream internationally (not in Russia and the CIS) on the live and interactive platform ClashTV. The ClashTV app allows you to do more than just watch – you can vote for which fighter you think should win, you can chat with your friends online while watching, and generate social capital.
Download the ClashTV app in the Apple Store and register:
https://apps.apple.com/tt/app/clashtv/id1468675126
Details on www.clsh.tv