GORILLA MMA SERIES ANNIVERSARY: WE HOLD THE 30th EVENT!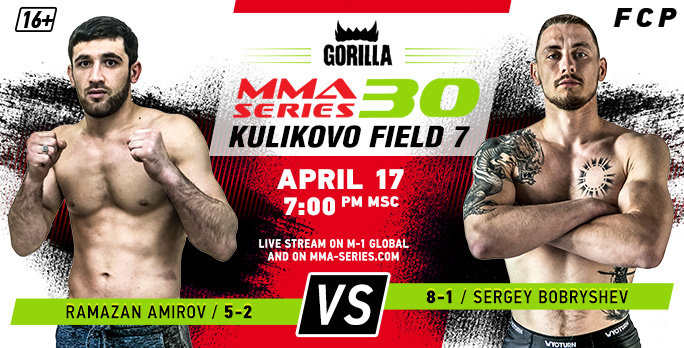 The live stream of the Gorilla MMA Series – 30: Kulikovo field 7 will be held on April 17 on M-1 Global at 7 PM Moscow time.
The 30th event of the Gorilla MMA Series will hold on April 17 in Kaliningrad and will be named "Kulikovo field 7". In the main fight MMA fans will see one of the most popular and creative Gorilla MMA Series fighter Sergey Bobryshev. He will face experienced and dangerous Ramazan Amirov. In the co-main fight we will see a battle between Nikita Kochetkov and Oleg Lichkovakha.
The upcoming main fight for Sergey Bobryshev will be the 4th at our tournaments. His last fight with Alexey Lyapunov has received the prize of the MMA Series Awards 2020 as the "Best fight". Also he has two early wins in the last three fights and in total for the career Sergey has early wins 7 times of 8 (5 KO's and 2 subs).
Sergey Bobryshev's opponent is Ramazan Amirov from Dagestan. Amirov started his career in 2015 and for now he has 5 wins, 3 of them were early. In August 2019 the Dagestan fighter battled with Tajikistan MMA star Nurullo Aliev in GFC, and in November 2019 he fought for the last time.
Straight before the Bobryshev and Amirov clash we will see Nikita Kochetkov against Oleg Lichkovakha. The upcoming fight for Nikita will be the 2nd in Gorilla MMA Series, where he defeated Sherzod Kayumov. Kochetkov from the "R.O.D." fight club has 19 fights and 12 wins in his career. There were early wins seven times. His opponent Oleg Lichkovakha was fighting in Brave FC for the last time against the legendary UFC title ex-pretender Ali Bagautinov and Oleg showed a serious resistance. Fighter from Kaliningrad won 14 fights and lost only 5 times and also 2 times draws.
Also we will see an interesting debut in the Gorilla MMA Series – 30: Kulikovo field 7 for Dmitry Andryushko, known for his performance in the popular "pop-MMA" organization called "Nashe delo". The Krasnoyarsk-based heavyweight was fighting in the AMC Fight Nights against Vagab Vagabov last time. Andryushko's rival will be Denis Ezuta from Volgograd, who will fight for the 2nd time in the Gorilla MMA Series.
Each closed-door event will take place under the most stringent conditions as determined by trained medical doctors. All of the fighters and participants are being tested and monitored for COVID-19 by trained medical professionals. Everyone supporting the fight will be wearing masks for their safety.
You can watch the Gorilla MMA series tournaments:
• on M-1 Global TV channel in packages of your cable, satellite and OTT operators
• on www.mma-series.com
• on the Gorilla MMA Series YouTube (premium subscription)
The tournament will stream internationally (not in Russia and the CIS) on the live and interactive platform ClashTV. The ClashTV app allows you to do more than just watch – you can vote for which fighter you think should win, you can chat with your friends online while watching, and generate social capital.
Download the ClashTV app in the Apple Store and register:
https://apps.apple.com/tt/app/clashtv/id1468675126
Details on www.clsh.tv