Program guide
22:00
M-1 Names. M.Tybura
00:00
M-1 Names. V. Kolesnik
04:00
Top-10 Light heavyweight Fighters
07:50
MMA Series - Names and Records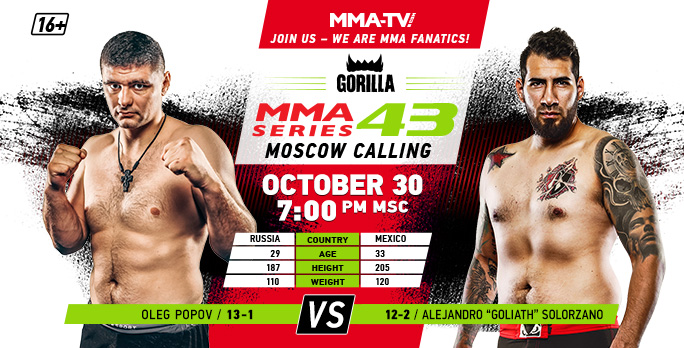 GORILLA MMA SERIES ANNOUNCES A TOURNAMENT WITH THE WORLD MMA STARS
Live stream of the Gorilla MMA Series-43: Moscow Calling will be held on MMA-TV.com channel – a new name of the M-1 Global channel – on October 30 at 7 PM Moscow time
The Gorilla MMA Series-43: Moscow Calling will be held on October 30 in Moscow. This event ends this month. You will see 13 competitive fights. Also you will see a return of some MMA stars and the Gorilla MMA Series Winner.
One of the best Russian heavyweight Oleg Popov (13-1) will face Alejandro Solorzano (12-2) from Mexico. Popov has 4 Gorilla MMA Series wins and he is a bronze titleholder of the Gorilla MMA Series. The Fighter from the Kuznya Krasnodar club has 11 wins in a row. His new opponent is Alejandro Solorzano. He is also known as Goliath because of his powerful punch and outstanding dimensions. Alejandro didn't lose in 6 fights in a row. An interesting fact is that the total weight of both fighters is 230 kg. The main fight triumphant will take the silver belt of the Gorilla MMA Series Winner.
One of the interesting Gorilla MMA Series-43: Moscow Calling fights will be with Sergey Bobsryshev (11-2). A sportsman from Murom was the winner of the Best fight in the MMA Series Awards 2020. Bobryshev had 3 fights in 2021 and 2 of them were successful. He will face Baurzhan Kuanyshbayev (11-3) from Kazakhstan. The upcoming fight will be the first for Kuanyshbayev in Gorilla MMA Series.
Also we mark a return of other Gorilla MMA Series fighters. Vadim Nedostup (15-4) will face Omadzhon Otazhonov (3-2). It will be the third Series fight for Nedostup. A skilled puncher Ilya Varvarskij (14-5-4) will fight for the sixth time in the Series. His opponent is perspective Vyacheslav Geraskin (2-2). Also Varvarskij has a unique record. He has 3 draws in Gorilla MMA Series. Ivan Parshikov (5-1) will face Nursultan Turduev (4-2). Parshikov will fight for the third time in the Series. Khamzat Chapanov (4-2) will try to win after his unlucky Series debut against Vyacheslav Babkin in the MMA Series-24. His opponent is Richard Totrov (10-6).
And we have a surprise for female MMA fans. Diana Vorobyova (1-1) from Russia will face Miraida Tashpolotova (0-0) from Kyrgyzstan. Diana will fight for the second time in the Series. Tashpolotova will debut in pro MMA.
We will see great MMA fights with fighters from Russia, Mexico, Kazakhstan, Kyrgyzstan, Uzbekistan, Georgia & Azerbaijan. We expect great punch technique and outstanding wrestling skills. Live stream of the event will be held on October 30 at 7 Pm Moscow time on MMA-TV.com channel (a new name of the M-1Global channel), on mma-series.com and MMA-TV.com. Also you can watch the live stream on the Gorilla MMA Series YouTube channel (by sponsoring channel). See you on live stream!
Spectators will be allowed to enter the stands in accordance with the current restrictions. The event will take place under the most stringent conditions as determined by trained medical doctors. All of the fighters and participants are being tested and monitored for COVID-19 by trained medical professionals. Everyone supporting the fight will be wearing masks for their safety.
You can watch the Gorilla MMA series tournaments:
• on MMA-TV.com channel in packages of your cable, satellite and OTT operators
• on www.mma-series.com
• on the Gorilla MMA Series YouTube (premium subscription)
The tournament will stream internationally (not in Russia and the CIS) on the live and interactive platform ClashTV. The ClashTV app allows you to do more than just watch – you can vote for which fighter you think should win, you can chat with your friends online while watching, and generate social capital.
Download the ClashTV app in the Apple Store and register:
https://apps.apple.com/tt/app/clashtv/id1468675126
Details on www.clsh.tv