Program guide
03:50
Names and records. MMA Series-67.
04:00
M-1 Names. A.Semenov
05:10
M-1 Names. P.Gordeev
05:50
MMA Series Presents: The Stars of World MMA. L.Miranda, M.Salikhov, P.Ortman, B.Shtepin, A.Silva
08:10
MMA Series Presents: The Stars of World MMA. N.Landwehr, W.Junior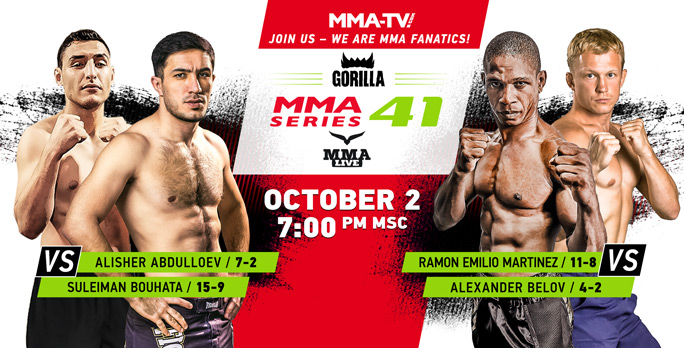 Gorilla MMA Series opens October events with a tournament in Germany!
Live stream of "Gorilla MMA Series-41: MMA Live 9" will be held on MMA-TV.com channel – a new name of M-1 Global – on October 2 at 7 PM Moscow time.
41st Gorilla MMA Series event will be held in Riesa, Germany. The new tournament will be held in West Europe at this time. An event will be represented by fighters from Russia, Germany, France, Serbia and others countries. We will see Alisher Abdulloev and Alexander Belov in super fights.
Alisher is from Dresden and he will fight for the first time in the Series. And his opponent is Suleiman Bouhata from France. Abdulloev's record is 7 wins and 2 losses. And now he has 3 wins in a row. This success brings the MMA Live title for the naturalized German. Bouhata has a 15-9 record. He started his career in 2011. He has 9 early wins.
Another MMA Live title holder Alexander Belov from Russia will face Ramon Emilio Martinez from Germany in the co-main fight. Belov is a champion in bantamweights. Also he is a winner of many world and Russian freestyle wrestling tournaments, pro and amateurs as well. Martinez is a kickboxer. He has solid performances in this discipline. Belov's record is 4 wins and 2 losses. Emilio has a 11-8 record. Both fighters will debut in the Gorilla MMA Series.
"Gorilla MMA Series-41: MMA Live 9" spectators will see many unpredictable fights in the main card. Special attention is to heavyweights duel. Murat Malsagov will face Sead Kahrovich. Both athletes represent Germany. Malsagov has 3 wins and 1 loss. Sead has a 8-14 record. Also we need to pay attention to the fight between Georgian Archil Taziashvili and German Abubakr Sabirov. Taziashvili will try to upgrade his 9-10 record. The unbeatable Sabirov goes for the 5th win. He has a 4-0 record.
Before the heavyweights we will see a fight between Serbian Adnan Alic and Russian Alexander Khanin. Alic started his pro career in 2005 and the upcoming fight will be the 38th. For Khanin it will be the 7th pro fight.
Spectators will be allowed to enter the stands in accordance with the current restrictions. The event will take place under the most stringent conditions as determined by trained medical doctors. All of the fighters and participants are being tested and monitored for COVID-19 by trained medical professionals. Everyone supporting the fight will be wearing masks for their safety.
You can watch the Gorilla MMA series tournaments:
• on MMA-TV.com channel in packages of your cable, satellite and OTT operators
• on www.mma-series.com
• on the Gorilla MMA Series YouTube (premium subscription)
The tournament will stream internationally (not in Russia and the CIS) on the live and interactive platform ClashTV. The ClashTV app allows you to do more than just watch – you can vote for which fighter you think should win, you can chat with your friends online while watching, and generate social capital.
Download the ClashTV app in the Apple Store and register:
https://apps.apple.com/tt/app/clashtv/id1468675126
Details on www.clsh.tv