Program guide
07:00
M-1 Names. A. Shlemenko
07:30
The territory of MMA-TV.com. No.19
08:00
MMA Series Presents: The Stars of World MMA. A.Yakovlev, K.Gagner, G.Melkonyan
10:00
MMA Series Presents: The Stars of World MMA. A.Yandiev, A.Frolov, B.Yunusov
12:00
The cage of Victoria Itsekhovskaya. MMAC 72.
12:15
MMA Series-72. S. Kharitonov, T. Cardoso, B. Kurbonov, O. Dadonov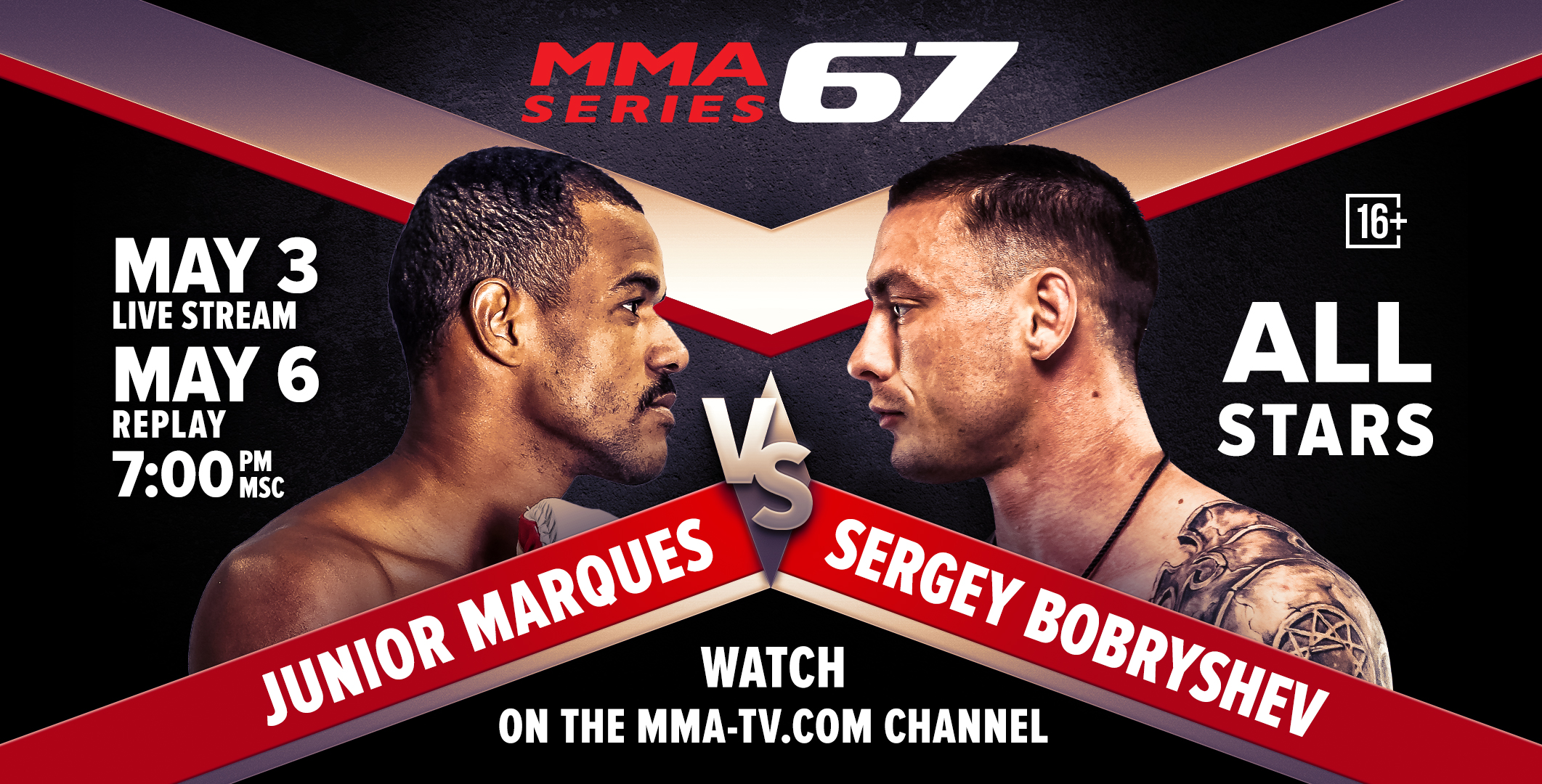 The super-event MMA Series-67: All stars will be held at May 3. It will be the 6-th tournament on this season. Promoters prepared amazing fights with the world class athletes, as always.

One of the main MMA Series star Sergey Bobryshev (Russia) will face Junior Marques (Brazil), who does not loss here. Before the main clash you will see Tahir Tank Abdullaev (Azerbaijan) versus Alimjon Khodjaev (Uzbekistan). Also: unbeaten Valter Ignacio (Brazil) versus Cassio Jacare (Brazil) for the silver Winner title, Oleg Dadonov (Russia) will face Givago Francisko (Brazil), second fight between Zemfira Alieva (Russia) and Irina Chernyshova (Russia), Alexey Lyapunov (Russia) versus Temur Khojamov (Uzbekistan), Maxim Kolosov (Russia) versus Miguel Gentilini (Brazil) and Tiago Cardoso (Brazil) fill face Dimitry Andryushko (Russia).

You will see more, so follow MMA Series to not sleep on the event. Watch live stream at May 3, 7 PM Mosocw time on MMA-TV.com channel, mma-series.com and youtube.com/@mma_series