Summin up the results of 2020 at the "Gorilla MMA Series-27: Time of new heroes"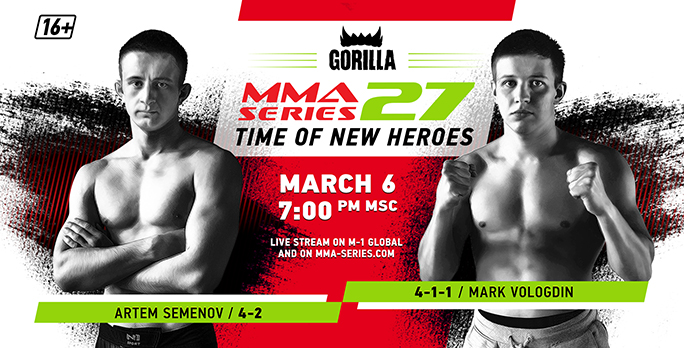 Live stream of the Gorilla MMA Series – 26: Time of New Heroes will be held on M-1 Global on March 6, at 7 PM Moscow time.
Gorilla MMA Series is back to the home pitch: the 27th event will be held on March 6 in St. Petersburg and MMA fans will watch a lot of interesting things. Here was landed the first tournament one year ago, March 1, 2020. And the symbolic thing that we will sum up the results of MMA Series Awards 2020 and celebrate the first happy birthday here.
Fans voted on the mma-series.com in 5 nominations: "Best Fighter", "Best fight", "Best Submission", "Best KO" and "Best Debut". Also there are some special prizes here to award outstanding fighters who did not get into main nominations.
A lot of nominees will be a part of the March 6 event, so fighters can be awarded even after their fights. And we specially mark the Series debutants. This is Mark Vologdin who has 4 early wins at our events and he is the main pretender to win in the "Best Debut" nomination, Artem Semenov who has been fought more than others in the Series, Andrey Lebedev who has an ideal Series record 3:0.
But we will find out the winners only during the "Gorilla MMA Series 27: Time of new heroes" live stream.
Each closed-door event will take place under the most stringent conditions as determined by trained medical doctors. All of the fighters and participants are being tested and monitored for COVID-19 by trained medical professionals. Everyone supporting the fight will be wearing masks for their safety.
You can watch the Gorilla MMA series tournaments:
• on M-1 Global TV channel in packages of your cable, satellite and OTT operators
• on www.mma-series.com
• on the Gorilla MMA Series YouTube
The tournament will stream internationally (not in Russia and the CIS) on the live and interactive platform ClashTV. The ClashTV app allows you to do more than just watch – you can vote for which fighter you think should win, you can chat with your friends online while watching, and generate social capital.
Download the ClashTV app in the Apple Store and register:
https://apps.apple.com/tt/app/clashtv/id1468675126
Details on www.clsh.tv
M-1 Global is available on major satellite, cable, and OTT networks in Russia and 38 countries.