Gorilla MMA Series returns to Belarus: 29th event will be be held in Minsk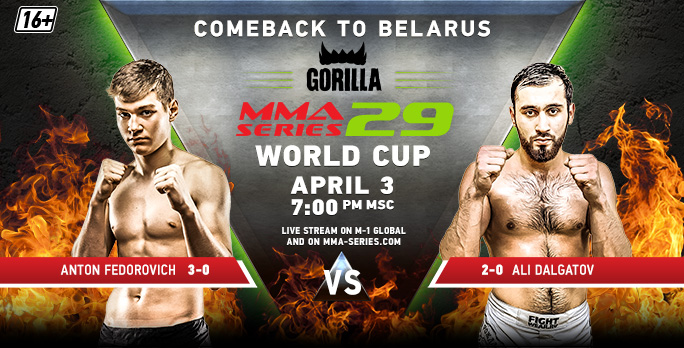 Live stream of Gorilla MMA Series – 29: World cup will be held on April 3 on M-1 Global, at 7 PM Moscow time.
Gorilla MMA Series for the first time in 2021 will hold an event outside of Russia. Successfully survived in such a hard time of pandemic our tournaments are coming back to organize sports events outside of Russia and will come to Belarus for the fifth time in its history. Fight night under number 29 will take place on April 3 in Minsk and is called Gorilla MMA Series – 29: World cup.
Anton Fedorovich from Belarus and Ali Dalgatov from Russia will be headliners of Gorilla MMA Series – 29: World cup because of the main fight. The upcoming fight for Fedorovich will be the 4th in his career. Anton won with confidence the previous 3 fights and 2 of them were by KO. The main fight in Gorilla MMA Series – 29: World cup will be the 3rd in our events for Belarusian middleweight. In 3 and 4 MMA Series events his opponents were Dmitry Pastukhov and Denis Sereda.
Ali "Lion" Dalgatov also has an ideal record. 2 early wins and the last one was in November 2020. Dalgatov will debut in Gorilla MMA Series.
In the co-main fight, we will see Gorilla MMA Series debutants Murad Saidov and Dmitry Zasinets. The upcoming fight will be the 4th for Dmitry. Zasinets debuted in pro MMA in 2019 and there were 2 wins and 1 loss. His opponent Murad Saidov has only 1 fight in his career. But his amateur career is pretty good: 13 successful fights.
The third of the Gorilla MMA Series – 29: World cup main fights will be represented by the Belarusian lightweight Ivan Kulak and his opponent Denis Aydarov from Russia. Kulak has a positive experience in our events: he KO'd Makar Yanuk in the MMA Series – 3 and won by decision in the fight with Pavel Sakevich in the MMA Series – 4. Denis Aydarov has 9 wins, 1 loss and 1 draw. This makes him one of the experienced fighters of the Gorilla MMA Series – 29: World cup.
In the first of the 2021 Gorilla MMA Series event outside of Russia we will see a female fight. Karina Chaplinskaya from Belarus will face Anisa Karimova from Russia. Chaplinskaya has 2 wins in a pro MMA career. The upcoming fight with Karina will be a debut for Anisa.
Each closed-door event will take place under the most stringent conditions as determined by trained medical doctors. All of the fighters and participants are being tested and monitored for COVID-19 by trained medical professionals. Everyone supporting the fight will be wearing masks for their safety.
You can watch the Gorilla MMA series tournaments:
• on M-1 Global TV channel in packages of your cable, satellite and OTT operators
• on www.mma-series.com
• on the Gorilla MMA Series YouTube (premium subscription)
The tournament will stream internationally (not in Russia and the CIS) on the live and interactive platform ClashTV. The ClashTV app allows you to do more than just watch – you can vote for which fighter you think should win, you can chat with your friends online while watching, and generate social capital.
Download the ClashTV app in the Apple Store and register:
https://apps.apple.com/tt/app/clashtv/id1468675126
Details on www.clsh.tv