GORILLA MMA SERIES GOES TO BROTHERLY COUNTRY: THE 36th EVENT WILL BE HELD IN SERBIA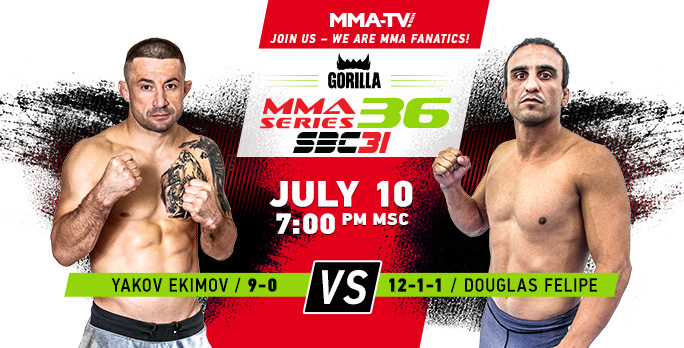 GORILLA MMA SERIES GOES TO BROTHERLY COUNTRY: THE 36th EVENT WILL BE HELD IN SERBIA
Live stream of the Gorilla MMA Series – 36: SBC 31 will be held on MMA-TV.com on July 10 at 7 PM Moscow time.
Gorilla MMA Series continues to expand its geography and an upcoming event will be held in Serbia. Gorilla MMA Series – 36: SBC 31 comes to Backa Palanka and a stream of the tournament will be held on July 10. The stream starts at 7 PM Moscow time.
Yakov Ekimov from Kuznya Krasnodar fight club is going to get the Gorilla MMA Series Winner title in the main fight. This fight will be the fifth in Gorilla MMA Series for the Russian fighter. He won four previous battles and this result gave him a chance to fight for the title. 33 years old Ekimov has a 9-0 record. Possible success can become a double jubilee: it can be the tenth victory in the career and the fifth in Gorilla MMA Series. His rival is Douglas Felipe from Brazil. He has a 12-1-1 MMA record. Felipe has 10 wins by submission and he represents Brazilian jiu-jitsu as his best side.
Nikica Vujicic from Bosnia & Herzegovina will face Dragutin Jegdic from Serbia in the co-main fight of the Gorilla MMA Series – 36: SBC 31. The upcoming event will be the first fight in the MMA career for both fighters.
The Gorilla MMA Series – 36: SBC 31 promoters made a great fight card with a lot of fighters from Europe. Most of them represent Serbia. But also, there are fighters from Brazil, Croatia, Bosnia & Herzegovina, Israel, and Luxembourg. An interesting fight will be with Denis Ekimov (1-0), he is a Yakov brother. He will face Zoran Dod from Croatia with a 13-16-1 record. Also, we have another Russian fighter from Kuznya Krasnodar fight club. Alexander Oganezov with a 1-1 record will battle Dzevad Muftic from Bosnia & Herzegovina.

This year, the MMA-TV.com channel (a new name of the M-1 Global TV channel) got the Golden Ray National Award in the field of satellite, cable and Internet television in the Sports TV channel nomination. This is the overall success of our team, TV channel, Gorilla MMA Series, our partners, fighters and viewers!
Spectators will be allowed to enter the stands in accordance with the current restrictions. The event will take place under the most stringent conditions as determined by trained medical doctors. All of the fighters and participants are being tested and monitored for COVID-19 by trained medical professionals. Everyone supporting the fight will be wearing masks for their safety.
You can watch the Gorilla MMA series tournaments:
• on MMA-TV.com channel in packages of your cable, satellite and OTT operators
• on www.mma-series.com
• on the Gorilla MMA Series YouTube (premium subscription)
The tournament will stream internationally (not in Russia and the CIS) on the live and interactive platform ClashTV. The ClashTV app allows you to do more than just watch – you can vote for which fighter you think should win, you can chat with your friends online while watching, and generate social capital.
Download the ClashTV app in the Apple Store and register:
https://apps.apple.com/tt/app/clashtv/id1468675126
Details on www.clsh.tv