GORILLA MMA SERIES-38: STRONG SPIRIT – LAST SUMMER TOURNAMENT WILL BE HELD IN SAINT PETERSBURG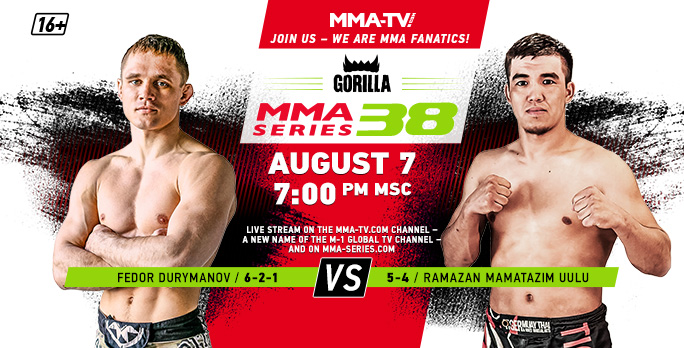 GORILLA MMA SERIES-38: STRONG SPIRIT – LAST SUMMER TOURNAMENT WILL BE HELD IN SAINT PETERSBURG
Live stream of the Gorilla MMA Series-38: Strong Spirit will be held on MMA-TV.com on August 7 at 7 PM Moscow time.
The next tournament of the Gorilla MMA Series will be held on August 7 in St. Petersburg. Spectators will see some outstanding comebacks of fighters that were popular in the beginning of our history.
Fedor Durymanov is back to MMA after one year of rest. World and Europe combat sambo champion debuted in the Gorilla MMA Series with great results. He won three fights in a row in 6th 8th and 9th MMA Series events. Then he lost at the Gorilla MMA Series-12. After this result he didn't fight in MMA because of an injury. Durymanov will face the experienced fighter Ramazan Uulu Mamatazim from Kyrgyzstan on August 7. He has 5 wins and 4 losses. Mamatazim will debut in the Series on August 7.
Miri Sadygov will face Mukhammad Kholikov in the co-main fight. Sadygov represents the Storm fight club and his coach is legendary Alexander Shlemenko. Miri has 2 wins in a row in the Gorilla MMA Series and the last one was on February 2020 at the Gorilla MMA Series-25 in Omsk. Kholikov will debut in the Series. His record is 4-0 and these are all early wins. It can be the most difficult opponent for Sadygov in the Gorilla MMA Series.
In the third of the super fights we will see a heavyweights clash. Konstantin Glazunov from Belgorod is preparing for a Gorilla MMA Series debut. The unbeatable prospect with a 5-0 record will face Hasan Isaev from Georgia. Hasan has a 2-1 record. He will try to win after his loss to Dmitriy Andryushko at the Gorilla MMA Series-34.
Also we will see a comeback from the Fedor Durymanov's training partner Vladislav Kyssa. Vladislav have not fight in MMA since August 2020 like his partner. Kyssa has three fights in the Series. He won the first two but lost the third battel. His opponent is Abdrasul Uulu Nursultan from Kyrgyzstan. His record is 5-4 and he debuted in MMA three years ago. It will be the debut fight in the Gorilla MMA Series.
We also note the fight with Alexey Nikolaev. One of the best Series debutants has three fights in the Gorilla MMA Series and won all of them. Alexey has been nominated for the Best Debut of the MMA Series Awards 2020. His opponent is the unpredictable Osmonbeg Kukaniev from Tajikistan. It will be his debut fight in pro-MMA.
Each closed-door event will take place under the most stringent conditions as determined by trained medical doctors. All of the fighters and participants are being tested and monitored for COVID-19 by trained medical professionals. Everyone supporting the fight will be wearing masks for their safety.
You can watch the Gorilla MMA series tournaments:
• on MMA-TV.com channel in packages of your cable, satellite and OTT operators
• on www.mma-series.com
• on the Gorilla MMA Series YouTube (premium subscription)
The tournament will stream internationally (not in Russia and the CIS) on the live and interactive platform ClashTV. The ClashTV app allows you to do more than just watch – you can vote for which fighter you think should win, you can chat with your friends online while watching, and generate social capital.
Download the ClashTV app in the Apple Store and register:
https://apps.apple.com/tt/app/clashtv/id1468675126
Details on www.clsh.tv